We finally have a syllabus which you can access by clicking here.
Today, Sept 15, we would like to deal with Chapter 2 of the book. Before bringing up a document, let's look at the ruler (and tabs) which we will also do with a document.
Let's see if we can access the Goldfinger document in a shared capacity. I've set a link to my one-drive account which you should be able to access by https://ccpmail-my.sharepoint.com/personal/mrauer_ccp_edu/_layouts/15/guestaccess.aspx?guestaccesstoken=6LwW0ero%2b13I22LezhTSmUkkKLUoCmSQ0mww3oP7kwQ%3d&docid=2_0ae4e6fb5cf2b4956add3bc240c41ea44&rev=1. This link was created using the share feature of Word. It doesn't work with my computer at home but why don't we try it in class. If this doesn't work, we'll load the document as we did previously.
I still haven't found the files that correspond with the book so we can look at the goldfinger document. Let's access the file Goldfingerx.docx by clicking here. Once we have a document, let's look at margins and page layout and indents. Headers and footers work better with a document so let's do it. Same thing with bullets and numbers. If we have time we will deal with styles.
We will be dealing with footnotes and endnotes. Here's some to put in:Find the first instance of Ursula Goldfinger and set a bookmark of "Ursula Goldfinger was an heir to the Crosse and Blackwell fortune. C & B was the premiere high end food proprieter in England especially of chutneys. C&B is now owned by Smucklers.
Second foot note: On Page 10 or 11 indicate that where Enro Goldfinger was exceedingly tall (6'8") Auric Goldfinger was relatively short: 5'8"
---
We will be dealing with Sources today also. Let's source out your instructor on this (not to mention your instructor's favorite author) although, keep in mind, you should in real life only source legitimate sources.
Marc Rauer, Dec 21, 1964 from the web site www.thediskcoordinator.com/dec21.1964.htm
Ian Fleing, Goldfinger, 1958, Jonathon Cape, London
Today, Sept 22, we will put in some pictures. In keeping with the Goldfinger document let's load up the following: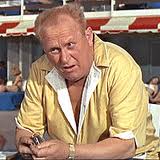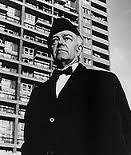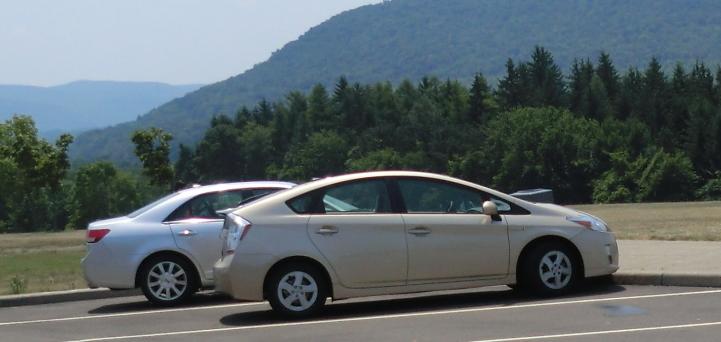 There are apparently two individuals named Marc Rauer in the United States and this website is associated with the Marc Rauer who is an adjunct instructor at the Community College Of Philadelphia. This web site has been created for the students of this instructor. Two classes at this school are involved: CIS103-010 meeting from 1 to 3 PM T-TH. The other class is CIS103-004 meeting from 4:20 to 6:20 T-TH. The Earlier class meets in the Bonnell Building at B2-23. The later class meets at the CBI building in C3-14. You can contact this adjunct instructor by clicking here. You can access the syllabus for this course by clicking here.
---
Tomorrow, Wednesday, June 29th, is the final between 1-3PM. Here are the files to be used. usinfo.txt, a text file. and uspop.accdb, an access database. As to usinfo.text, use your popup menu to save the file to your hard drive and then proceed to bring this into your database using import data as a table. If it's easier, here's a link to the excel version of usinfo.text which you can then import as a table to your access database, usinfo.xlsx. Your instructor will be handing out individual tests for all students.

System Requirements
Your workstation must meet the following minimum system requirements to use SAM:

Requirements

Computer
*Processor: Intel Pentium 4 or higher processor required; Intel Centrino or an equivalent multi-core processor recommended
*Memory: 512 MB RAM required; 1 GB RAM recommended
*Operating Systems: Windows 7 32- or 64-bit or Windows 8/8.1 32- or 64-bit; Macintosh OS X 10.7 or higher
 
Audio and Video
*Graphics: SVGA
*Resolution: Minimum recommended 1024 x 768
*Color: 32-bit
*Video Memory: 64 MB minimum; 128 MB recommended
*Video Card: Modern DirectX compatible

Network
*Internet Connection: 56K modem minimum; broadband connection (cable, DSL, T1 or ISDN) recommended; persistent connection required

Software and Disk Storage
*Web Browsers: 4 MB 
*Adobe Flash Player 11 recommended; versions 10.2 or higher have been tested and are supported; versions prior to 10.1 are not supported: 2 MB
*Adobe Reader 8 minimum; 9 recommended: 22.4 MB
*SAM Projects:
*For SAM 2010 Projects: Microsoft Office 2010 Professional for Windows
*For SAM 2013 Projects: Microsoft Office 2013 Professional for Windows, Professional Plus, RT and Office 365 (Home Premium, University) 

NOTE: Refer to your Microsoft documentation for current disk storage requirements.

Supported Browsers

You can access SAM using the following browsers:

For Windows 7, 8 and 8.1
 
Internet Explorer 9 through 11 for 32-bit or 64-bit versions of Windows; Firefox (latest version and latest -1); Chrome (latest version and latest -1)

NOTES: SAM 2010 Assessment and Training content is not tested on Chrome. Compatibility Mode is not supported for Internet Explorer.
 

Macintosh OS X 10.7 or higher
 
Safari 7.0 and Firefox (latest version and latest -1)

Confirm these settings in your browser: JavaScript is enabled. Pop-up blocking is disabled, either entirely or for the SAM URL http://sam.cengage.com.  Ad-blocking software is disabled for the URL http://sam.cengage.com.

IMPORTANT: Do not have multiple tabs or browsers with SAM open at the same time. Having multiple instances of SAM open may result in a loss of data.
 

---
A syllabus has been handed out and assigned. If you need a syllabus at any time, click here and a Word document containing the syllabus will be downloaded
We did discusss fonts, resolution involving the ribbon and cut, copy and paste. Below are some copies of information from various sources on the internet pertaining to some of this:
As to resolutions, we give a list from wikipedia below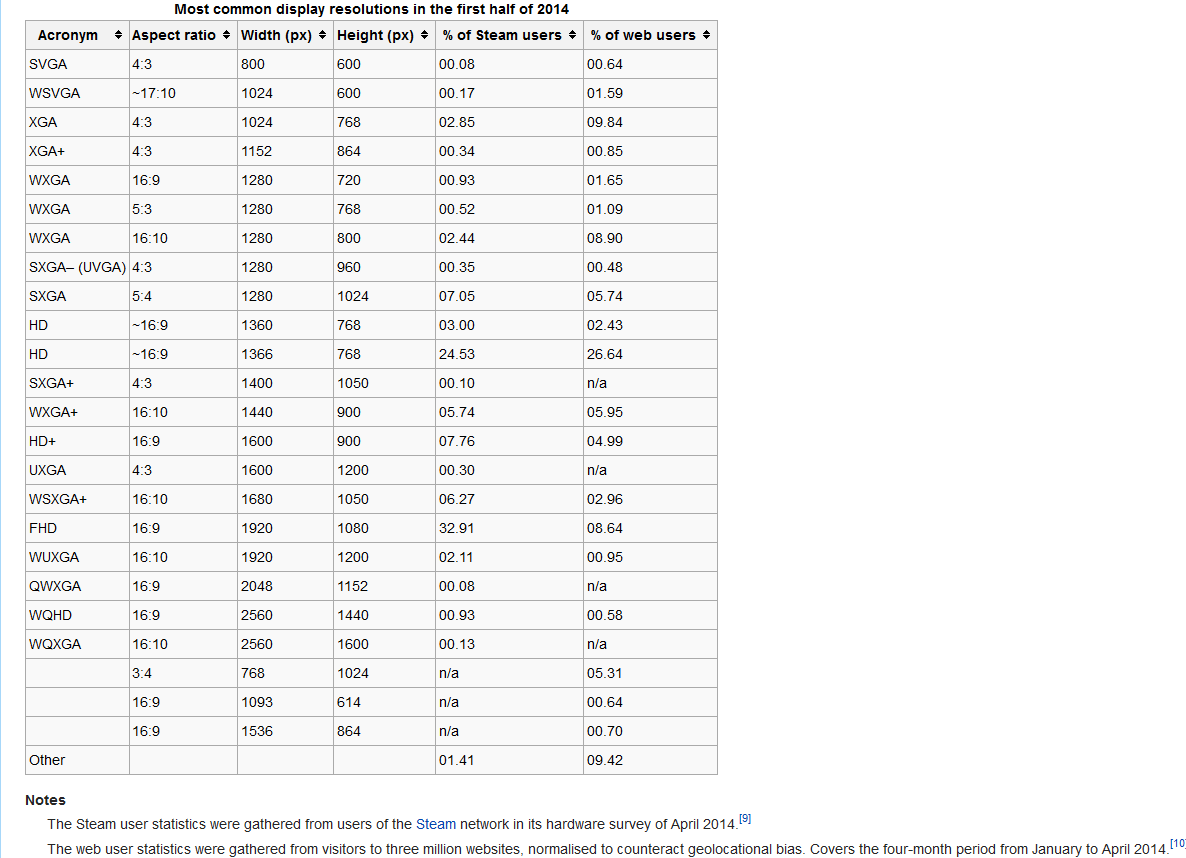 Here is the display section of my computer at home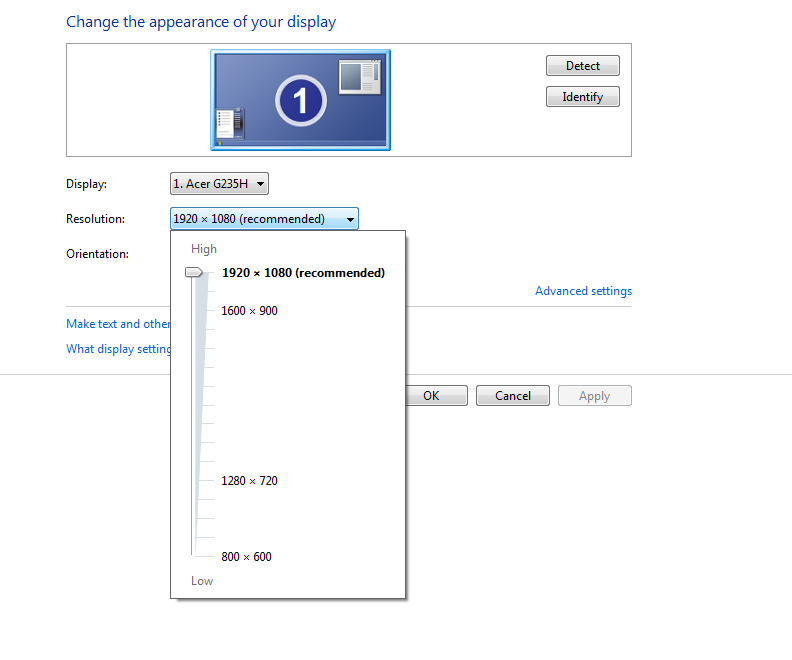 We will be talking about the ribbon. The ribbon depends on screen resolution mentioned above. Below is some examples of the home tab using various screen resolution.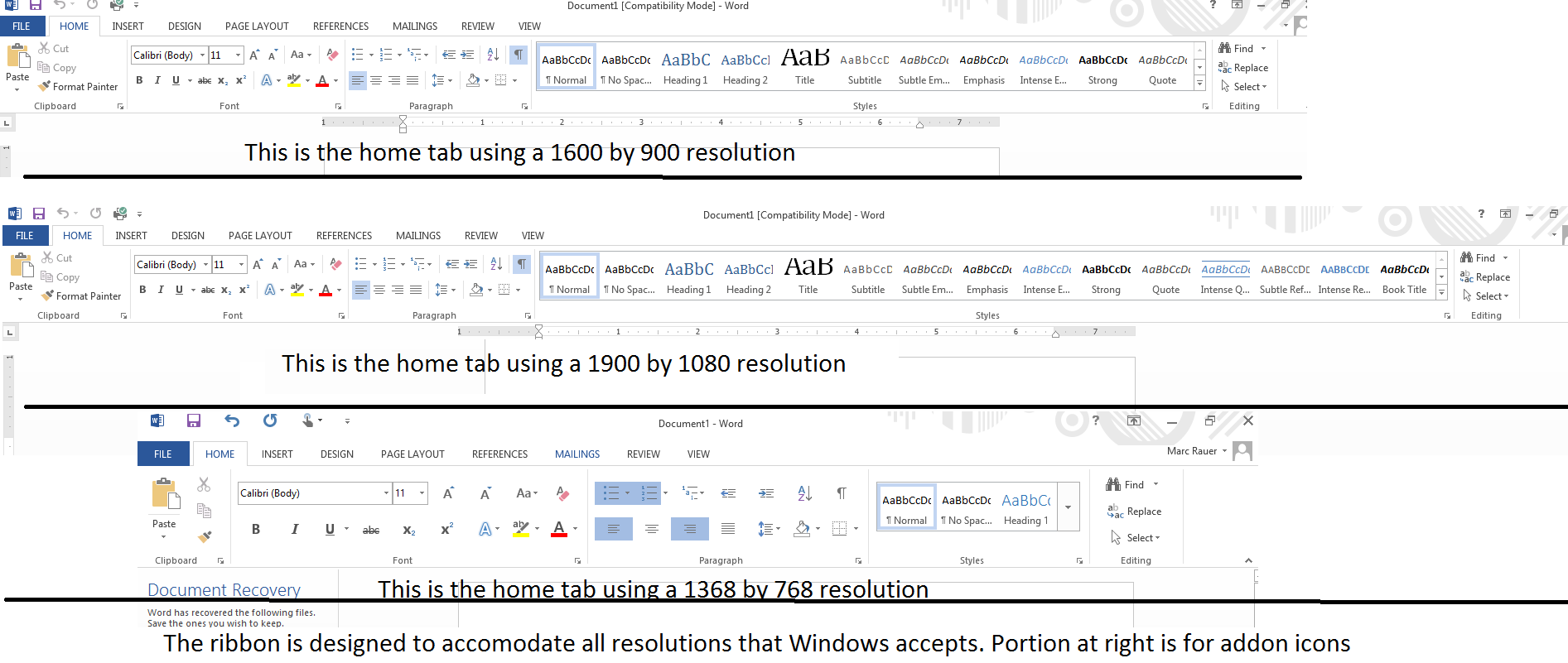 We are going to discuss fonts and font technology. Do you know what is considered the first font ever created. And why was it named? Now, besides looking at fonts per the question of the windows graphical user interface (GUI), we can look at one of Word's best features: preview. Below is an example.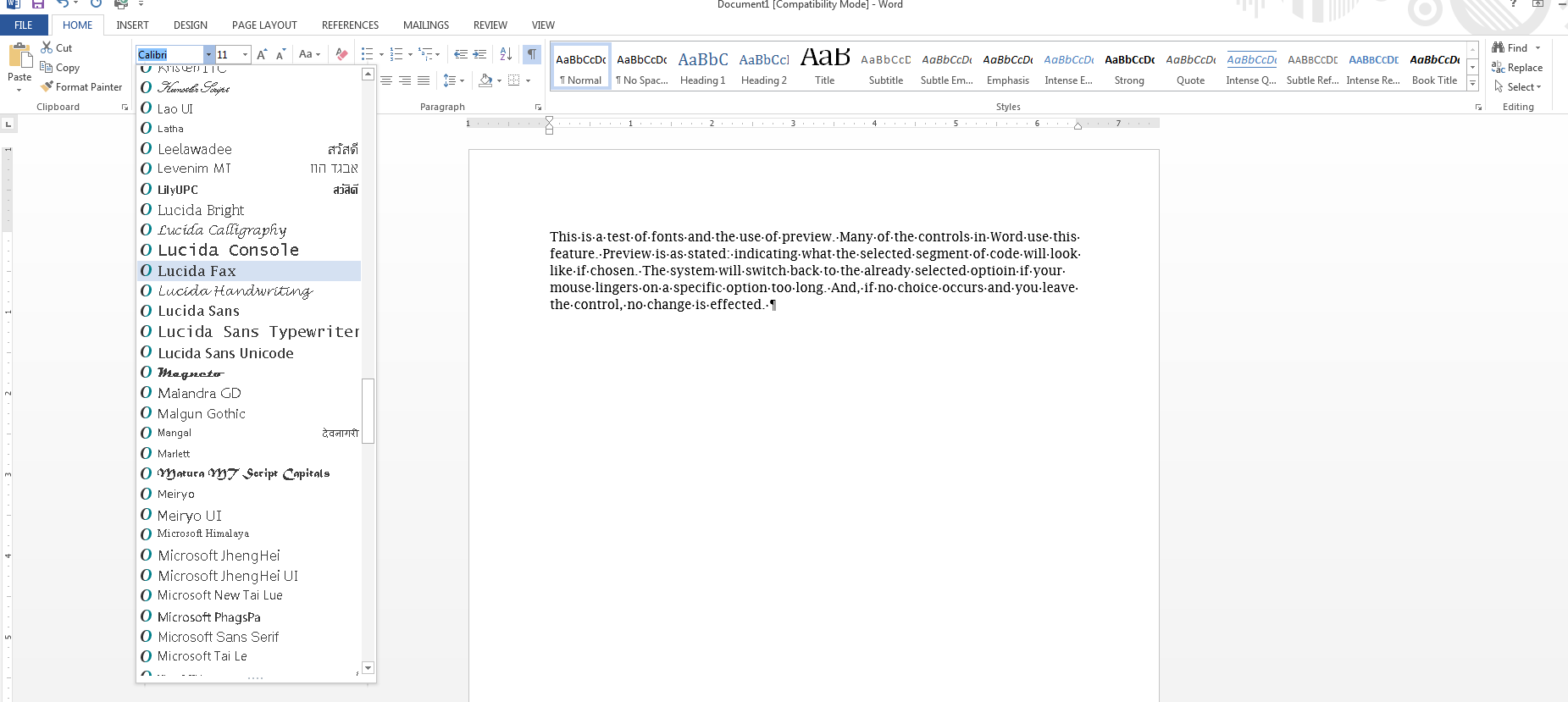 Among the technologies of the operating system - inherited by Word and the other applications - the the clipboard. You have one on your system as it is system dependent. We will discuss cut, copy,pasrte and delete in detail but notice that we have 3 items in this clipboard as indicated below. Where can we paste this information?

By the way, the clipboard is programmable. I've thrown some code into a visual basic program. Look at the popup box giving the coding options below.
Finally, for some reason the lab in B2-23 did not work in terms of the actual image of the copy. Below, we try to show this. This worked in C3-12 (and on my machine from which this is taken) so I have no answer as to why it failed on Thursday afternoon.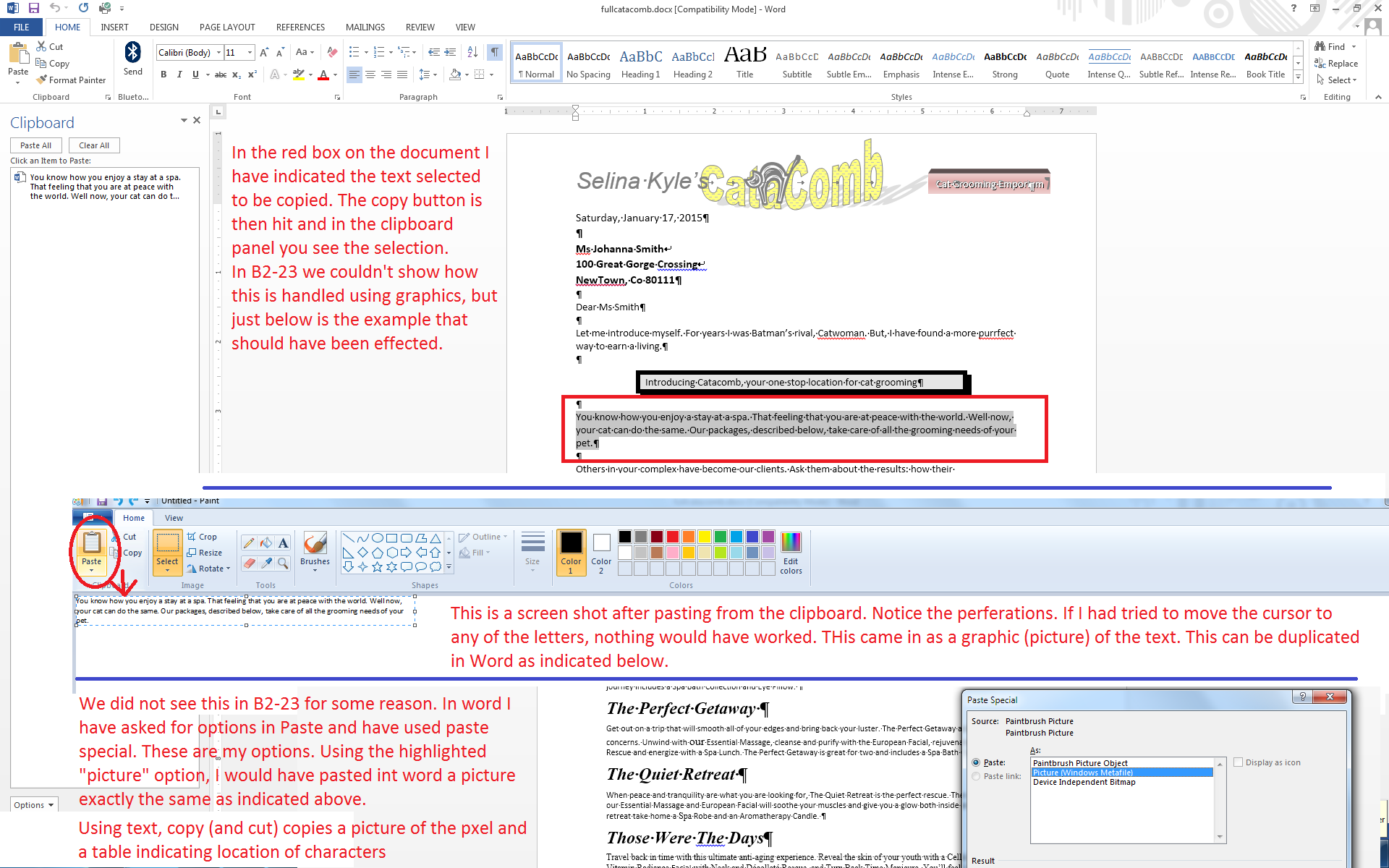 ---
---
You have been told that you should be doing the problems in the book. This course is designed to give you several views in tackling problems. We will do the first problem of the book in class after resolving catacombs. Below is a discussion of this.
---
We are going to do the first problem in the book in a slightly different manner. It's going to be all objects. Start with drawing a textbox as indicated below.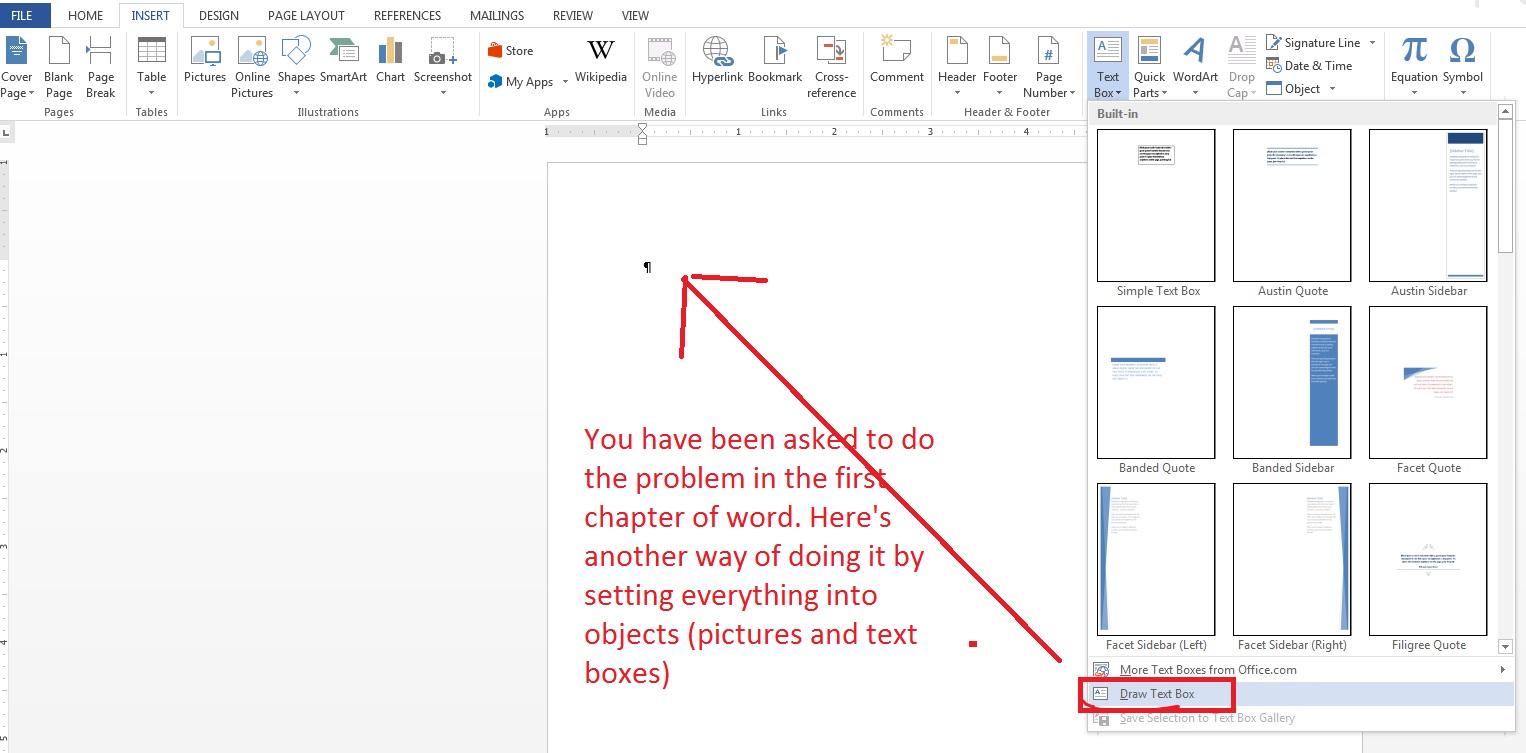 Now, let's add a picture. You can use the one in the book but here are several others:





The problem in the book uses a 75 point Adventure in a different color. We can do the same using textbox tools (as well as home tab font group tools). Notice that we can use additional tools to modify the text box if we like. Below tries to document some of this

You can access this document by clicking here.. Notice that the underline on the phone number is a hyperlink. Let's see if we can do this using the insert tab control for hyperlink. Once done with the hyperlink, see if you can modify this document to look as follows: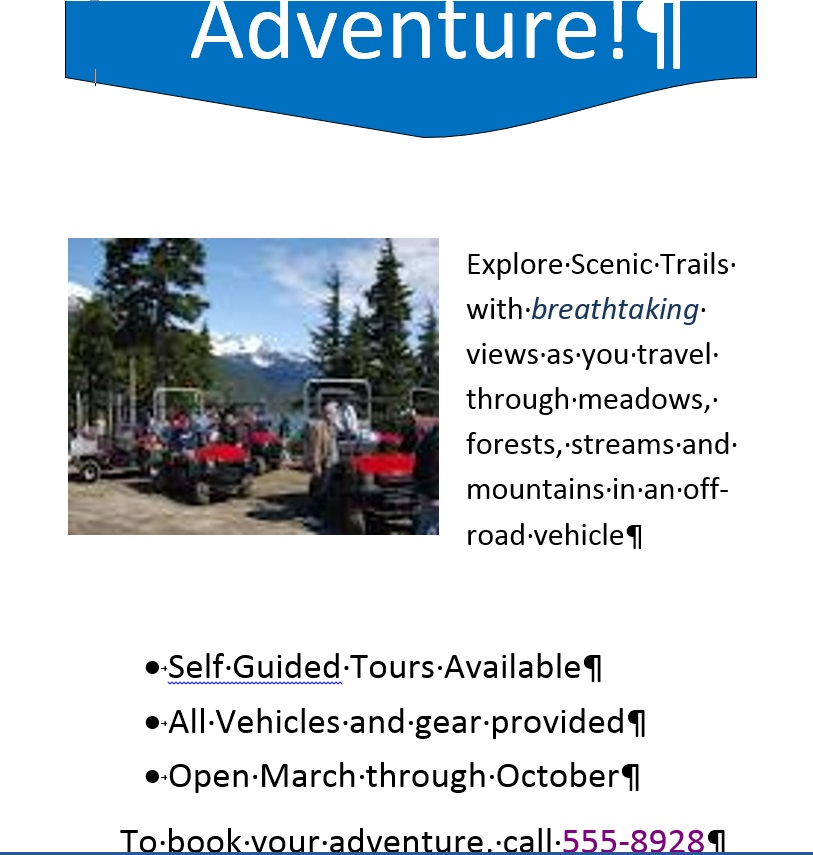 ---